Amnestie, amina, amňa – s tímto synonymem naděje na propuštění z vězení na svobodu jsem se poprvé osobně setkal na konci své vazby v roce 2012. Už od léta jsem slýchal oknem své cely, jak si vězňové v ostravské vazební věznici z okna do okna vyměňovali tu reálné, tu nereálné i zcela absurdní teorie o tom, zda prezident Klaus na konci svého druhého volebního období amnestii udělí či neudělí. A jestli ano, tak jakou. Tehdy poprvé jsem se setkal také s amnestology.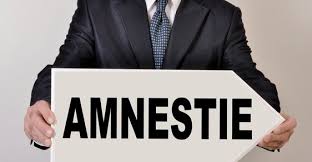 Amnestologové jsou (dle svého mínění) osoby nadané zvláštní schopností. Stejně jako antičtí auguři z letu ptáků či haruspici ze zvířecích vnitřností předpovídali budoucnost, tak i amnestologové se snaží z chování prezidentů předpovídat budoucí osud vězňů. Přesněji řečeno délku jejich pobytu ve výkonu trestu. A stejně jako numerologové, tak i amnestologové vytvářejí různé kombinace dat a čísel a snaží se (převážně marně) vyčíst příchod vytouženého spasení, tedy amnestie.
V případě Klausovy amnestie ji však nedokázal předpovědět ani vzdálený příbuzný blízkého prezidentova spolupracovníka, ačkoliv by se ho (toho vzdáleného příbuzného) amnestie bytostně týkala. O abolici, která byla součástí vyhlášení amnestie, neuvažoval nikdo. Většinou hlavně proto, že nevěděli, co to je.
Po mém nástupu do výkonu trestu odnětí svobody ve věznici v Horním Slavkově v roce 2017 a s blížícím se příchodem nového roku 2018, roku:
- 100. výročí vzniku Československa,
- 80. výročí Mnichovské zrady,
- 70. výročí komunistického puče (či Vítězného února – to podle politických preferencí),
- 50. výročí srpnové okupace (či Bratrské pomoci spřátelených armád států Varšavské smlouvy – taktéž podle politických preferencí),
- 25. výročí zániku Československa a vzniku České republiky
prognózy amnestologů nabývaly na intenzitě. S nárůstem četnosti amnestologických předpovědí rostl i rozsah předpokládané amnestie. Jen mě překvapilo, že i přes tolik mediálně zdůrazňované a omílané rusofilství prezidenta Zemana a jeho údajné okouzlení prezidentem Putinem nikdo z amnestologů nepředvídal možnou amnestii ke 100. výročí Velké říjnové socialistické revoluce, které připadalo již na 7. listopadu 2017.
Tak, jak se blížil konec roku 2017, rojily se čím dál tím pestřejší varianty rozsahu amnestie. Optimisté byli skálopevně přesvědčeni o tom, že ke 100. výročí vzniku republiky bude amnestie všeobecná. Jednoduše řečeno: z basy pustí všechny. Pesimisté v řadách amnestologů se zase klonili k amnestii výběrové, omezené na některé přečiny, a to ještě jen na nějaký ten rok, maximálně dva (něco jako Klausova amnestie, ovšem bez abolice). Mezi tím byla celá škála různých kombinací, většinou odrážejících aktuální trest konkrétního amnestologa. Přiznávám, i já jsem přispěl svou troškou do amnestologického mlýna. Musím ale dodat, že se tak dělo v úsměvné diskusi na téma amnestie v době vánočních svátků. Cílem této debaty bylo vytvořit docela uvěřitelné fake news k amnestii. A tak se zrodil návrh amnestie ve stylu dortu pejska a kočičky, který zrcadlil naše zbožná přání na amnestii. Navrhli jsme (si) tedy následující amnestii:
všeobecná amnestie pro vězně starší 65 let (jednoduše propustí všechny dědky nad pětašedesát – to proto, že jeden z debatujících splňující věkový limit, byl odsouzen za násilný trestný čin),
všeobecná amnestie s výjimkou násilných trestných činů pro vězně starší 60 let (takových nás byla většina),
amnestie dvouletá všeobecná (pro ostatní vězně mladší 60 let, všechny tresty se sníží o dva roky) a výběrová tříletá (za mařenky a alimenty se tresty sníží o 3 roky), protože toto kritérium splňoval jeden z nás.
Blížil se 1. leden 2018. Z pohledu amnestologů magické datum. I poslední amnestii přeci prezident Klaus vyhlásil v Novoročním projevu 1. ledna 2013, tedy před 5 lety. A v tento den před čtvrt stoletím vznikla Česká republika. Tímto dnem přeci začíná rok kulatých jubileí a prezident se určitě bude chtít blýsknout svou dobrotivostí. Co naopak svědčilo proti vyhlášení amnestie k tomuto datu, byl fakt, že bylo před prezidentskými volbami. Vyhlášení amnestie sice mohlo přinést hlasy amnestovaných a jejich rodin, na druhou stranu by tato amnestie ubrala hlasy těch, co hlásají, že na lumpy a kriminálníky musí být větší přísnost. Ostatně ještě v čerstvé paměti byl ambivalentní názor na udělení milosti dvojnásobnému vrahovi, novodobému dědici slavných vězeňských tradic Babinského, k jehož oslavě už chyběly jen kramářské písně. Druhým důvodem nereálnosti 1. ledna 2018, coby termínu vyhlášení amnestie byla neexistence fungující vlády. Tento fakt většina amnestologů pomíjela, zejména proto, že jim to bylo fuk. Každopádně 1. ledna 2018 prezident Zeman žádnou amnestii, ať už všeobecnou nebo výběrovou, nedal.
Amnestologové jsou ale rození optimisté. Nepřišla-li amnestie 1. ledna, určitě bude po volbě prezidenta. Jen se vedly spory o tom, jestli to bude Zeman nebo někdo jiný. A tak se amnestologové pustili do zevrubného studia předvolebních slibů, kdo z kandidátů má jaký vztah k amnestii. A protože se v předvolebních debatách a rozhovorech Zeman k možnému vyhlášení amnestie nestavěl zrovna vstřícně, tak to vedlo k tomu, že jeho protikandidát, prof. Drahoš, ve 2. kole prezidentské volby ve věznici Horní Slavkov zvítězil. Předpověď amnestologů se opět nezdařila. Ani po svém opětovném zvolení prezident Zeman amnestii nedal.
Nastalo období bez perspektivních termínů pro amnestii. K 50. výročí Bratrské pomoci spřátelených armád zemí Varšavské smlouvy amnestii nepředpovídal ani ten největší optimista z řad amnestologů. Ale amnestologové se nevzdávají! Když se nenašlo vhodné výročí pro amnestii, začali bedlivě sledovat zprávy o zdravotním stavu prezidenta. Inspirováni uměním haruspiků sledovali jaterní skvrny na tváři prezidenta a z nich se pokoušeli odhadnout, zda prezident ze zdravotních důvodů abdikuje sám a nebo zemře. Každopádně do švestek očekávali amnestii od jeho nástupce. Prezident Zeman amnestology zklamal. Ani neabdikoval, ani nezemřel, takže v létě se žádná amnestie nekonala.
Nastal podzim a s podzimem opět aktivita amnestologů zesílila. Z jakékoliv činnosti zaměstnanců vězeňské správy se dovozovala reálnost příchodu dne "A" – amnestie. S blížícím se 28. říjnem 2018, nejmagičtějším datem amnestologů, amnestologické prognostické aktivity zesílily. Bude amnestie všeobecná nebo výběrová, bude jedno- nebo dvouletá? Vyhlásí ji 28. října ráno, v poledne, odpoledne nebo večer před či po předání státních vyznamenání? Vše marno! 28. října 2018 prezident Zeman ke 100. výročí vzniku Československa amnestii nedal.
Ale amnestologové se nevzdali. Skutečnost, že oslav 28. října se zúčastnil i slovenský prezident, amnestology vedla k teorii, že prezident Zeman spolu s prezidentem Kiskou vyhlásí amnestii 30. října ke 100. výročí Martinské deklarace, abychom v Česku i na Slovensku měli amnestii ve stejný den. Pravda, velmi mě překvapila znalost československých dějin, zejména data Martinské deklarace, u lidí, kteří váhají i nad tím, jestli se ve slově vodka píše měkké nebo tvrdé i/y. A co amnestie? Zase nic!
Víra amnestologů v amnestii je však nekonečná jako vesmír nebo lidská blbost. Je tu přeci výročí 17. listopadu. Co na tom, že to není žádné kulaté výročí. Amnestie může být vyhlášena i v tento den. Vždyť naděje umírá poslední!
A tak jediným spokojeným vězněm byl jen ten jeden, který nastoupil do výkonu trestu odnětí svobody v trvání pět a půl roku jen pár měsíců po Klausově amnestii v roce 2013 a 28. října 2018 ho po odpykání trestu propustili.
Vladimír, t. č. ve výkonu trestu